Pioneers
of plant-based
food
Organic and veg since 1991
We were one of the first Italian companies to specialise in the production of plant-based organic food.
The credit goes to Massimo Santinelli, who founded Biolab in Gorizia in 1991, after discovering the health benefits of macrobiotic and vegetarian cuisine.
locally sourced
and organic
From the very beginning we have embraced organic and locally sourced products: most of our ingredients come from our own farm and from other farmers in the Friuli Venezia Giulia region who follow the same principles.
Thanks to this choice, in 1993 we began our collaboration with Ecor, an organic distributor and owner of the NaturaSì and CuoreBio shops.
our green path:
from the
Vegetarian Festival
to "Via dei Vegetariani"
In 2010 we promoted the Vegetarian Festival, which attracted more than 5000 people to Gorizia.
The festival was successful beyond all expectations, so much so that the municipal administration changed the name of the street where our main office is located to "Via dei Vegetariani": a unique occurrence in Italy and probably also abroad.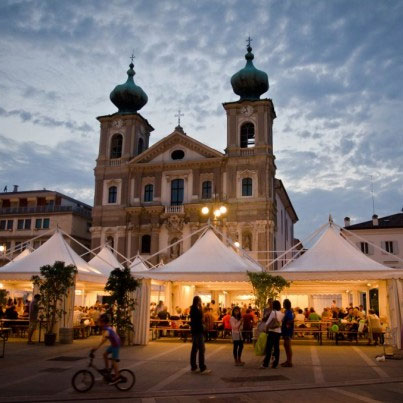 A plant-based revolution
A slaughterhouse turns
into a plant-based facility
In 2017 we took over the former municipal slaughterhouse in Gorizia and, thanks to a radical renovation, transformed it into our third plant - an achievement that fills us with pride.
Today, Italy is the leading European country in terms of surface area for organic farming, and one of the countries where the consumption of plant-based proteins has grown the most.
This site is registered on
wpml.org
as a development site.